April 23, 2021
Team Alert
How many of Houston's finest will be turning pro this spring?
It's that time of year again, when we get to witness college standouts get the call of their dreams. With family and friends surrounding them and celebrating excessively, the new era of the NFL begins each year at the end of April.

The University of Houston will be headlining the Texas Kickoff at NRG Stadium this Labor Day Weekend. Before they get their season started, they'll be sending off a few high performers to the NFL Draft.

The Cougars have been regulars in the NFL Draft, most recently with OT Josh Jones getting drafted in the Third Round to the Cardinals in 2020. For 2021, there are three Houston hopefuls waiting on a call:

PAYTON TURNER
Year: Senior
Pos: Edge
Height: 6'5"
Weight: 270
Harris 100 Predicted Pick: 97
The Draft Network Predicted Pick: 87

MARQUEZ STEVENSON
Year: RS Senior
Pos: WR
Height: 5'10"
Weight: 182
The Draft Network Predicted Pick: 190
GRANT STUARD
Year: Senior
Pos: LB
Height: 5'11"
Weight: 230
The Draft Network Predicted Pick: 293
Stay tuned to @TexasKickoff social throughout the draft to catch where these future pros are headed!
August 22, 2019
Team Alert
HOUSTON – The AdvoCare Texas Kickoff announced today that the gameday will get underway with a special performance by Texas country music star Jack Ingram at the Karbach Love Street TexFest on Friday, Sept. 13 at NRG Stadium prior the college football showdown between the University of Houston and Washington State University.
Ingram is a highly acclaimed artist, best known for his Indie country music and recognition with young fans. Since 1992, the Texas native has produced a memorable discography of 12 studio albums, over four live albums and numerous singles. The country music star has maintained a strong reputation for his charismatic performances and eclectic sound. His blend of Indie and country is highly favored amongst his dedicated fan base, and other artists recognize his insane work ethic.
Originally born in the Woodlands, Jack Ingram got his start by writing songs and playing local appearances while studying psychology at Southern Methodist University in Dallas in the late 1980s. He then took his talents to Fort Worth, where he played for local bars around Texas Christian University's campus. During the early 1990s, Ingram toured throughout his home state, opening for Mark Chesnutt and other acts. In 1993, he debuted with his self-titled album Jack Ingram and followed it up with Lonesome Question in 1994. After his first live album, Live at Adair's in 1996, Ingram re-issued two of his first Indie albums, demonstrating his talents in various genres. The success of these albums allowed him to expand his creativity and drop a few nationally renowned records such as Livin' or Dyin', Hey You, and Electric.
The 2000's was a prominent era for Ingram as he created and released one of his most popular albums in 2005 titled Wherever You Are. The album produced a powerful duo of country hits; its title track Wherever You Are became his first Number One single. The second acclaimed single Love You reached the Top 20. His next two albums each had their own success with songs that ranked in the Top 10 and Top 20 charts. His 2016 album, Midnight Motel, marked a significant milestone for the artist, with it being his first independent soundtrack ever produced. In April of 2019, Ingram put out his 14th album titled Ridin' High…Again.
The weekend's festivities will begin Thursday night at 6:30p in Midtown at the Karbach Hopadillo Kickoff Crawl where fans will have the chance to participate in multiple giveaways as they make their way around select bars. The night's giveaways include AdvoCare Texas Kickoff tickets and swag, passes for a meet and greet with Jack Ingram, pregame sideline passes – all of which can be won through games at each bar. At the end of the night, a final drawing will be held for two 50-yard line AdvoCare Texas Kickoff game tickets at the last bar of the crawl. For a full schedule of stops and activities, visit www.advocaretexaskickoff.com/kickoff-crawl/
On game day, the Karbach Love Street TexFest will kick off the events at NRG Stadium on Friday, Sept. 13 starting at 5:00 p.m. outside the south entrances of NRG Stadium. Ingram will headline the event and is scheduled to hit the stage at 6:15 p.m. following the team arrivals and Spirit Walks.
Karbach Love Street TexFest is a free event open to all 2019 AdvoCare Texas Kickoff ticketholders that features live music, prizes and the teams' spirit walks into NRG Stadium. The official pregame party for the AdvoCare Texas Kickoff will be held outside the South Entrances to NRG Stadium between the Amegy Bank Gate and Ford Gate. This year's festivities will include food trucks, games, inflatables in the Kids Zone and drink specials. For more information on the event, visit www.advocaretexaskickoff.com.
Following is a detailed schedule of the pre-game events leading up to the 2019 AdvoCare Texas Kickoff:
KARBACH LOVE STREET TEXFEST, FRIDAY, SEPT. 13
WHO:

Musical Performance by Jack Ingram

WHEN:

5:00 p.m. CT Event Opens at NRG Stadium

6:00 p.m. CT, University of Houston Spirit Walk

6:10 p.m. CT, Washington State Spirit Walk

6:15 p.m. – 7:45 p.m. CT, Jack Ingram

WHERE:

Bud Light Plaza and the South Entrances of NRG Stadium
The matchup of the UH Cougars and the #23 WSU Cougars will kick off at 8:15 p.m. CT following the pregame festivities at NRG Stadium. The game will be televised nationally on ESPN and heard locally on Sports Radio 610 (KILT-AM). Tickets remain for the 2019 AdvoCare Texas Kickoff and are available by clicking here or calling (832) 667-2390.
CONTACTS:
Allie LeClair
(832) 667-2050
allie.leclair@houstontexans.com
Brianna Lewis
(832) 667-2035
brianna.lewis@houstontexans.com
###
September 14, 2017
Team Alert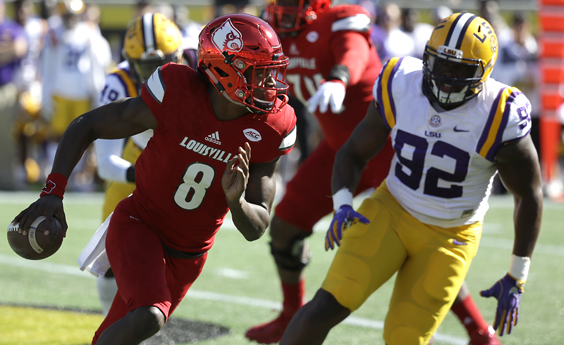 There hasn't been a Heisman Trophy repeat winner since 1975. For you Millennials, that's a long time ago, so long ago in fact, that it's before cable TV was invented. You know, that cable TV that they're seemingly cutting out of their lives going forward. But, I digress. The history of no repeat winner is so stark, and true, that heading into the 2017 season, no one gave Louisville mega-weapon quarterback Lamar Jackson a chance in Hades of winning this prestigious award again. Heck, analysts and national media didn't even name him the 2016 Heisman winner a Preseason All-American at the position.
Yet after two weeks of the 2017 season, Jackson has everyone's attention…again. He's accounted for eight touchdowns and 1,010 yards of total offense. Oh, and he's not thrown an interception, either. He led Louisville to wins over much improved Purdue and conference foe North Carolina in the process. Similar to the way that he started 2016, Jackson has strung together highlight reel plays and prodigious numbers as no other player has to start the 2017 season.
But, Clemson is up next. The defending champs just held Auburn to six points and sacked Auburn quarterback Jarrett Stidham ELEVEN times. That's no misprint. ELEVEN. Last year in Death Valley, Jackson won the battle, but his Cardinals lost the war. He put up 295 yards through the air and 162 on the ground in one of the best games of the 2016 season, yet the Cardinals lost. This week, the Tigers come to Louisville and Jackson has a chance to ruin their visit and win over even more non-believers.
If he does, maybe the repeat Heisman bandwagon will start to fill up with converts.
By: John Harris
April 26, 2017
Team Alert
Mother nature might have played as big a role as any player or coach on Saturday in Baton Rouge for LSU's annual spring game. Before the storm hit, though, the purple and gold assemblage got a chance to see what SEC defenses will learn in due time.
Matt Canada's offense is no joke.
Shift, motions, tackle over, shovel pass RPOs, tackle eligible passes and numerous other wrinkles had some LSU fans wondering what, in fact, they were watching. And, as it's only the spring game, LSU's new energetic offensive coordinator has plenty in his back pocket for the regular season.
The days of true two back, 21 and 22, I-formation personnel are all but gone on the Bayou. The Tigers will throw a litany of formations and play schemes that SEC defenses have NEVER seen from LSU. There are split plays where one side of the formation runs one play and the other side runs another. Canada's innovation will have heads spinning for a while and it may take a while for it to completely click.
When it does, though, whooo boy, look out.
Oh, did I mention that LSU has arguably the best running back in the nation? I didn't? Where are my manners? When defenses focus completely on star back Derrius Guice, there will be lanes and openings for a myriad of other offensive stars, including receiver/slot/speed sweeper D.J. Chark, now donning Leonard Fournette's number seven. Guice, though, stands to gain the most, in some sense, because he won't spend his entire day ramming his 5-11, 212 lb. body into eight or nine man stacked boxes. He's going to have as much space to exploit as any back in the country and that's not a good thing for SEC foes. He's also going to get more involved in the passing game as he did on the first drive of the game, catching a flat route well ahead of coverage, down to the half yard line. A false start penalty cost LSU's gold team the touchdown, but it was a sign of things to come with Guice, like Pitt's James Conner last year, as a key receiver in this scheme.
And, no, your TV wasn't play fast forward either; the Tigers now play as fast as any team in the conference, sprinting up to the line of scrimmage after first downs and nearly every other play. Now, there's a difference in playing fast and playing fast effectively. A team can't just focus on the speed of play, but the efficiency and execution while playing fast. Canada learned that he can combine the innovation of his playbook with pace of play and make it dangerous combination for SEC defenses.
It's going to be fun in Baton Rouge this season, that's for sure, and it starts at NRG Stadium September 2nd, 2017.
By: John Harris
March 3, 2017
Team Alert
FOR IMMEDIATE RELEASE
Friday, March 3, 2017
HOUSTON – The Texas Bowl presented a check for $180,000 to DePelchin Children's Center this week, setting a record single-year donation to the charity. The donation came from the proceeds of the 2016 Texas Bowl.
The Texas Bowl presented the $180,000 check to Jenifer Jarriel, the President and CEO of the DePelchin Children's Center. The gift was the largest in Bowl history and marked the sixth time that the Bowl contributed $100,000 or more to DePelchin. Donations have previously exceeded $100,000 in 2009, 2013, 2014, 2015 and 2016.
"We are thrilled to present DePelchin Children's Center with the largest single-year donation since our alignment in 2006," Chairman of the Texas Bowl Don Faust, Jr. said. "The relationship between the Texas Bowl and DePelchin is extremely important to our volunteers, staff and board members and we are honored to provide a significant financial contribution to the charity each year."
DePelchin Children's Center was named as the Bowl's official charitable beneficiary in 2006. In its historic tenth anniversary year in 2015, the Bowl surpassed $1 million in total donations to DePelchin and has generated millions of dollars in promotional support and publicity to date.
"We are incredibly thankful for this record breaking $180,000 donation from the Texas Bowl to DePelchin," DePelchin President and CEO Jenifer Jarriel said. "Not only does this donation provide much needed financial support, but this partnership provides our families with experiences throughout the year that will last a lifetime."
Founded in 1892 by Kezia Payne DePelchin, DePelchin Children's Center is an accredited foster care and adoption agency serving the most vulnerable children and families in Texas and working to break the cycles of abuse and neglect. DePelchin's approach to caring for kids integrates at-risk prevention, foster care, adoption and post-adoption programs to improve the mental health and physical well-being of children who are at risk of entering or are in the State's child welfare system.
The agency was originally founded as an orphanage and has grown and changed over its 125 year history to continue to meet the needs of the Houston community. Today, DePelchin Children's Center offers support for children and families throughout the Greater Houston area and across Texas, including Austin, San Antonio, Brownwood and Lubbock.
Last year's Texas Bowl matched Kansas State and Texas A&M in the third year of the Bowl's partnership with the Big 12 and the SEC. The game between the Wildcats and the Aggies was among the Top-5 most-attended bowls in the country for the third consecutive year as Kansas State rolled to a 33-28 victory over Texas A&M.
The Texas Bowl and the AdvoCare Texas Kickoff have grown to become two of the most popular annual college football games in the country and have combined to create an economic impact of close to $100 million annually for the city of Houston.
The Texas Bowl is owned and operated by ESPN Events a subsidiary of ESPN, and managed locally by Lone Star Sports & Entertainment.
CONTACTS:
Allie LeClair, (832) 919-0655
Katie Karsh, (610) 755-8682
About the Texas Bowl
The Texas Bowl is owned and operated by ESPN Events, a subsidiary of ESPN, and managed locally by Lone Star Sports & Entertainment. The Bowl will showcase teams from the Big 12 and the SEC, two of the country's premier conferences, for the next three years. The Texas Bowl has been a tremendous success both on and off the field over its first 11 years as it is the 4th most-attended bowl overall since 2014. The bowl generates nearly $50 million annually for the Houston economy and has donated over $1,200,000 in financial support and millions more in promotional support to DePelchin Children's Center, the bowl's official charitable beneficiary.