Gridiron Legends
Celebrate the epic players of football lore.
The Gridiron Legends program honors individuals who have made a significant contribution to the game of football in the state of Texas, either at the high school, collegiate or professional level.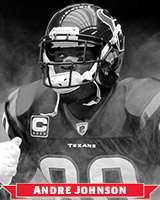 Andre Johnson
Houston Texans seven-time Pro Bowl and four time All-Pro wide receiver Andre Johnson started his career off at Miami Senior High School, where he lettered in football, track and basketball. He was named an All-America selection in his senior year where he caught 31 passes for 908 yards and 15 touchdowns. In his three seasons at the University of Miami, Johnson ended up ranking fifth on the school's all-time receiving yards list after producing 92 receptions for 1,831 yards and 20 touchdowns. He became the second player in Hurricane history to crack the single-season 1,000-yard receiving barrier in his junior year. As a sophomore, he earned multiple honors and helped Miami win its first national title in 10 years, catching 37 passes for 682 yards and a college career best of 10 touchdowns. In the 2002 Rose Bowl, Andre Johnson was named the Co-Player of the Game when he caught seven passes for 199 yards and two touchdowns. The Houston Texans drafted Johnson as the third overall pick in the 2003 NFL Draft. As a rookie, he started all 16 games and recorded at least one catch in each game. Throughout his 12 seasons with the Texans, Johnson became the team's all-time leading receiver with 1,012 receptions for 13,597 yards and 64 touchdowns. He ranks ninth on the all-time receptions list and 12th in yards receiving. He is one of three players in modern NFL history to lead the league in receiving in back-to-back years. Johnson averaged an NFL all-time 6.0 receptions per game in his career and 80.5 yards receiving per game ranks second in NFL history. With a list of accolades under his belt, Johnson made seven trips to the Pro Bowl. He is a four-time Houston Texans team MVP, and holds the franchise record for the most starts and games played with 169. Johnson became the second-fastest player to reach 1,000 catches in NFL history, doing so in his 168th career game. He also holds the NFL record with 21 career games with 10 or more receptions and 100 or more yards receiving. Johnson set a standard for the Texans, making numerous records for the young team. In 2017, Andre Johnson made his official retirement and later in that year he became the first-ever inductee into the Texans Ring of Honor. Currently, Andre Johnson acts as the Special Advisor to the Head Coach for the Houston Texans.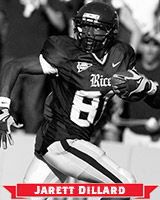 Jarett Dillard
Former Rice University All-American, wide receiver Jarett Dillard hails from San Antonio, Texas. There he played at Sam Houston High School as a three-year letterman and starter for the Hurricanes. He was a two-time all-district selection at wide receiver, and added all-area to his honors as a senior. Along with football, Dillard also competed for the Sam Houston basketball and track team. He helped the Hurricanes to the 2003 Class 4A state tournament in basketball, and competed in the 2003 Regional Track Meet in both hurdles events. After being accepted into Rice University and taking a redshirt his freshman year, Dillard came out strong, starting in eight games in his first season. For the next three years, Jarett Dillard re-wrote the Rice record book for wide receivers, passing a number of recognizable candidates to become a finalist for the Biletnikoff Award in 2006. In that same year, Dillard became the first Owl since Charles Torrello in 1997 to be named first-team All-America selection by ESPN.com. He earned second-team status by The Walter Camp Foundation, Associated Press, The Sporting News and SI.com. Dillard broke the NCAA record for consecutive games in a season with 13 games, sharing the mark with Randy Moss and Larry Fitzgerald. Jarett Dillard was named the 2007 Consensus C-USA pick and was honorable mention All-America by Sports Illustrated after leading the Owls with 79 catches for 1,057 yards and 14 touchdowns. He led the C-USA receivers with his 14 touchdowns, along with his average of 7.5 catches per conference game. In 2008, Dillard became Rice's first Football Writers All-America selection since Buddy Dial in 1958. He also earned All-America mention from CBSSports.com. He became a three-time, first-team consensus All C-USA selection, the first Owl to be a consensus pick for conference honors for three consecutive seasons. Dillard led the NCAA with 19 touchdown catches and became the first receiver in NCAA history to have two, 19-touchdown reception seasons. He became the 10th receiver in NCAA history to top 4,000 yards receiving after his 88-yard effort versus Marshall. In his entire career at Rice, he earned five NCAA receiving records including; most career touchdowns (59), most career touchdowns by a passing duo with quarterback Chase Clement (50). Most career games with a touchdown catch (37), most games with a touchdown catch in a season (13 in 2006), and combined with Clement to earn the Walter Camp foundation National Offensive Players of the Week and C-USA offensive honors. Dillard wrapped up his collegiate career by becoming the 2008 Texas Bowl Champions as Rice defeated Western Michigan in his final game with the Owls.
Dillard was drafted by Jacksonville in the fifth round of the 2009 NFL draft where he spent three seasons with the Jaguars. The accolades didn't stop when his playing days ended. In 2012, he was a recipient of the Ed Block Courage award. Dillard currently practices law in the state of Texas and is a longtime Academy Sports + Outdoors Texas Bowl volunteer.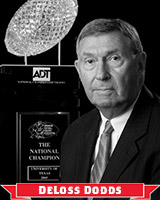 DeLoss Dodds
Former athletic director for the University of Texas for 32 years, DeLoss Dodds is one of the most accomplished college sports executives in the country, with an athletic career spanning five decades. The Longhorns claimed 14 national titles under his tenure, including the 2005 National Championship in Football. Dodds' career started after he graduated from Kansas State University in 1959 with a degree in physical education. After spending time in graduate school and in the Army, he became the head track and field coach at K-State in 1963, where he served in that position for 14 years. After guiding the Wildcats to six Big Eight titles and all of his accomplishments with the team, Dodds was inducted into the Drake Relays Coaches Hall of Fame in 1989, the Kansas State Athletic Hall of Fame in 1995 and the U.S. Track Coaches Hall of Fame in 2006. DeLoss Dodds began his career in sports administration by turning a struggling "in-the-red" athletics department into a money-maker in three years as the director of athletics at Kansas State. Prior to UT, he acted as an assistant commissioner to the Big Eight Conference for two years. In 1981, Dodds was hired by the University of Texas to become the school's sixth athletic director. In his career, he took another struggling program and revived it, overseeing the department's budget and helping change the face of Texas athletics. He guided the creation of The Longhorn Foundation in 1986, which raised funds invested in student-athlete scholarships, academic services, sports medicine, facilities and other resources directed at student-athlete development. During his tenure, the Longhorns Athletics program enjoyed some of its most dynamic times. From the fall of 1981 to September 2013, the longhorns claimed 14 National Championships and 108 conference (Southwest and Big 12) titles in nine different sports. With Dodds' vision for the program, Texas became a national name. The Longhorn's football run to the BCS National Championship during the 2005 season highlighted one of the most successful periods in UT Athletics history. That fourth title underscored a decade of achievements with at least 10 other victories in nine consecutive seasons. In 2006, Dodds was awarded with the National Football Foundation and the John L. Toner Award for demonstrating his superior administrative abilities. The following year, he was inducted into the Texas Sports Hall of Fame. DeLoss Dodds was honored as the 2011 Athletic Director of the Year at the Sports Business Awards. In October of 2013, Dodds announced his retirement as the Texas Men's athletic director, and the following month all the way up to the present day, DeLoss Dodds has served as special assistant to the UT President.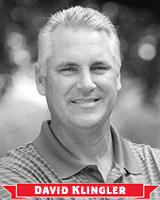 David Klingler
University of Houston All-American quarterback David Klingler was at the controls during the Cougars' record-setting run-n-shoot days of the early 90s. His career started here in Houston at Stratford High School where he shined on the field. His performance at Stratford earned him multiple scholarship opportunities Stanford and Pitt for basketball, while Kansas and Ball State wanted him for both basketball and football. Klingler instead decided to stay close to home and attended the University of Houston on a football scholarship. In the beginning, he studied the nuances of the Cougars run-and-shoot play style while being a back up to 1989 Heisman winner, Andre Ware. During his college career, Klingler made a strong impact on the Cougars from 1988-91, bringing a lot of attraction to the school. In the 1990 season, a lot of weight was put on his shoulders after Andre Ware and then Head Coach Jack Pardee left for the NFL, putting Klingler onto the front line. To the surprise of many, Klingler did better than anticipated, breaking or tying numerous passing records in his tenure. Completing 726 of his 1,262 passes for 9,430 yards and 91 touchdowns, posting multiple school records and even more NCAA records. David Klingler set an impressive 48 NCAA records in his two starting seasons with the Cougars. One of those honors being the NCAA record for touchdown passes in a season with 54 touchdowns in 1990. This record stood unbreakable for 16 years until it was broken in 2006 in the Hawaii Bowl. The 1990 season continued to be outstanding for the quarterback, as Klingler led the Cougars to be ranked No. 3 in college football, the programs highest ever ranking. He racked up multiple awards that season as the winner of the 1990 Sammy Baugh Trophy, and the Southwest Conference Player of the Year. Klingler made a valiant push to win the Heisman Trophy and came out as a finalist. A stand out for the University of Houston, David still ranks in the top ten for career touchdown passes and yards, and currently ranks among All-Time passing leaders at the University of Houston. After his career with the Cougars, David Klingler went on to be drafted as the sixth overall pick by the Cincinnati Bengals in the 1992 NFL Draft.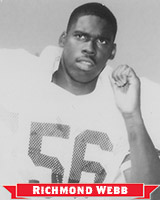 Richmond Webb
Former offensive lineman Richmond Webb had an outstanding career at both the collegiate and professional level. Originally, out of Dallas, Webb was a star at Roosevelt High School. He played alongside future NFL players, LB Aaron Wallace and WR Kevin Williams. Initially recruited as a defensive end, Richmond Webb switched over to the offensive side of the ball and became a dominant player at Texas A&M University. During his time as an Aggie, the All-American offensive lineman was a force on the field. He helped the Aggies win two Southwest Conference Championships and was All-SWC in 1989. Webb also received the Aggie Heart Award in the same year. His 13-year NFL career started when the Miami Dolphins selected him as the ninth overall pick in the 1990 NFL Draft. Webb took charge right out the gate, being named NFL Rookie of the Year by The Sporting News in his first season. He also made the Pro-Bowl in his rookie season, which was his first of many. In fact, Webb was invited to seven consecutive Pro-Bowls from 1990 to 1996. A four-time AP All-Pro, Richmond Webb set a team record for 118 consecutive starts and helped the Dolphins make the playoffs in eight of his 11 seasons with the team. He was a key blocker and pass protector for Hall of Fame quarterback, Dan Marino from 1990-99. The success of that 1990 season, led the Dolphins to become the All-Decade Team for that year. After his lengthy tenure with the Dolphins, Webb continued to be a key contributor on the field for the Cincinnati Bengals during the final years of his career. In his time there, the Bengals' offensive line allowed the fourth-fewest sacks in team history and had the second-best individual rushing performance. Richmond Webb concluded his NFL career by retiring as a Dolphin in 2005. Soon after, Webb was added to the Dolphins Honor Roll in 2006 along with former S Dick Anderson. In 2007, Richmond Webb was inducted into the Texas A&M Hall of Fame and currently ranks no. 16 on the list of the All-Time Greatest Aggies.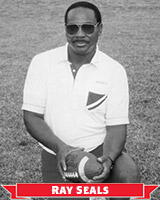 Ray Seals
Legendary Head Football coach and Athletic Coordinator, Ray Seals has spent nearly the last 50 years as a dominant figure in Houston ISD Athletics. The 10-time HISD Coach of the Year garners an iconic coaching career and has been recognized on the high school, college and professional level. Seals got his start in HISD in 1972 after he was hired as an assistant at Sam Houston. After a few stops at Sterling Aviation High School, Milby High School and James Madison High School, he received his first head-coaching job in 1983 at Milby before taking over the head coaching position at Madison in 1988. For over the next 23 years, Ray Seals built a dynasty at Madison High School, compiling a 212-96 record, along with 21 playoff appearances. As a result of his success on the field, the Prairie View A&M graduate was eventually inducted into several Halls of Honor. These included ones from the Texas High School Coaches Association, the Greater Houston Football Coaches association and HISD. A well-respected figure in football, over 200 of Seals' players have been awarded scholarships to play at the collegiate level. Another handful more went on to play in the NFL. A few of those notable names spawn under Seals' coaching include former Tennessee Titans quarterback Vince Young and former Detroit Lions fullback Moran Norris. In 2008, Ray Seals was selected as the NFL High School Coach of the Year. A few years later, Seals was named the inaugural Don Shula NFL Coach of the Year after being nominated by the Houston Texans. In 2011, Ray Seals decided to call an end to his iconic 46-year career. His record at Madison ended at 182-82-1.
---

Alois Blackwell
University of Houston All-American and Hall of Honor running back Alois Blackwell started his football career at Cuero High School in Cuero, Texas. With a record setting career at Houston, he ranks ninth in career rushing yards with 2,467 and 10th for a single season with 1,169 yards. Blackwell earned the starting running back position his redshirt sophomore year when he registered 934 rushing yards, eight touchdowns and three consecutive 100-yard rushing games. Blackwell contributed to the team's achievement of a Southwest Conference co-championship as well as a national ranking of fourth, the highest in school history. In the 1977 Cotton Bowl, he rushed for 149 yards and scored two touchdowns for the Cougars. Blackwell was named the 1977 Cotton Bowl's Most Valuable Player after his performance in the 30-21 victory over the Maryland Terrapins. That year he was also honored with the Houston Sportswriter's Player of the Year. In 1978, the All-American was drafted in the fourth round of the NFL Draft by the Dallas Cowboys where he played two seasons. He then returned to his alma mater and served as an academic counselor for the football team for six years as well as an assistant athletic director of marketing and promotions for one year. Blackwell continued his career as an athletic director for Texas Southern University from 2001 to 2008. During Blackwell's time with the Tigers, the program won seven Southwestern Athletic Conference championships, including a men's basketball title in 2003. He also contributed to the opening of the Academic Enhancement Center for Student-Athletes in 2005. Blackwell now serves as the Principal and Senior Consultant at Athletic Shift Consulting's for the past ten years.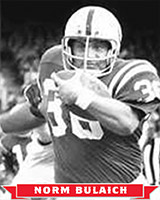 Norm Bulaich
Former first round NFL draft pick and running back Norman "Norm" Bulaich is a Galveston native and attended La Marque High School in La Marque, Texas. His professional career spanned 10 years after an exceptionally successful career at Texas Christian University. The fullback played in 30 games during his time at TCU and ran for 1,045 total rushing yards on 214 attempts. During the 1968 season, Bulaich attained the 10th most rushing yards in the Southwest Conference history after a season total of 503 yards. His success at TCU led him to be drafted early in the 1970 NFL Draft. He was picked in the first round and 18th overall by the Baltimore Colts. In his first season in the NFL, Bulaich started all 12 games with the Colts and had 139 rushing attempts for 426 yards. To finish off the season for the rookie, the Colts defeated the Dallas Cowboys in Super Bowl V. Bulaich was the second leading rusher in the game for the Colts with 28 yards on 18 carries. He was selected in 1971 Pro Bowl after a remarkable 152 rushing attempts for 741 yards, 25 receptions for 229 yards and 10 touchdowns during his second season. After his time with the Colts, Bulaich spent two seasons with the Eagles and then five seasons with the Dolphins. During his entire NFL career, Bulaich acquired 3,362 yards on 814 carries for 30 touchdowns. The recognition for his success continued in 2012 when Bulaich was ranked 100th in the Miami Dolphins All-Time Top 100 Players. He now lives in Hurst, Texas with his wife and family.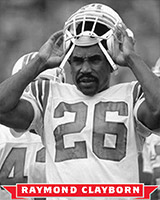 Raymond Clayborn
Three-time NFL All-Pro selection and New England Patriots Hall of Fame member, Raymond Clayborn, spent 15 seasons in the NFL. The Fort Worth Trimble Tech High School native featured as a running back and defensive back for the Bulldogs growing up. He then continued his football career at the University of Texas, where his success earned him an All-American cornerback selection. Clayborn came in as a wide receiver but was used as a running back for the Longhorns his first two seasons where he ran for 529 yards on 83 attempts. In 1976, he mainly played as a defensive back and had 35 punt returns for 335 yards and one touchdown, averaging 9.6 yards per return. Clayborn also had 10 kick returns for 156 yards, averaging 15.6 yards. These grand numbers are what earned the Longhorn the All-American accolade his senior season. In 1977, the Fort Worth native was drafted in the first round of the NFL Draft, 16th overall by New England. During his time with the Patriots, Clayborn played in all 16 games in nine of his 13 seasons and played in 14 in two other seasons. In his first three seasons, Clayborn returned 57 kicks for 1,538 yards, averaging 27.0 yards per run and returned three for touchdowns. The cornerback acquired 36 interceptions during his 13 seasons with the Patriots, which was the franchise record for many years until it was tied in 2004. From the 36 interceptions, the cornerback attained 555 yards, 85 yards being his longest run and scored one touchdown. During Clayborn's 1983 season, he acquired more than 63 tackles, 10 assists and 25 pass deflections earning him his first Pro-Bowl selection. One of his most memorable games was the 1985 AFC Championship against Miami when he led the defense in shutting down the impressive Miami offense and snapped the Patriots 18-game losing streak down in Miami. This key win sent New England to the Super Bowl two weeks later, and this earned Clayborn his second Pro Bowl honor. His third Pro Bowl season in 1986 was due to his 41 tackles, seven assists, eight pass deflections and three interceptions. Last year, Clayborn was inducted into the New England Patriots Hall of Fame receiving 40 percent of the votes, the top vote-getter. He resides in Katy, Texas.
Gary Kubiak
At St. Pius X High School in Houston, Texas, Gary Kubiak held the then state-record in passing yards with 6,190. Nicknamed "Koob", the quarterback led the team to three consecutive state championships. His accomplishments, not only as a quarterback but as an athlete, named him to the all-state football, basketball, baseball and track teams twice. The 1978 St. Pius X High School graduate's success continued to be recognized over 20 years later when he was inducted into the Texas High School Football Hall of Fame in 1999. The Houston native did not travel far as he attended Texas A&M to continue his academics and football career. During his time as an Aggie, Kubiak completed 314 passes on 595 attempts for 4,078 yards and 31 touchdowns. In 1982, the quarterback was named first-team all-conference and led the Southwest Conference in passing yards (1,948) and touchdown passes (19). Kubiak was also given the Aggie Heart Award, which is based not only on production but the courage and determination the athlete possesses. After his impressive career as an Aggie, the quarterback was drafted in the eighth round of the 1983 NFL Draft by the Denver Broncos. Kubiak played for the Broncos for nine seasons where he completed 173 passes on 298 attempts for 1,920 yards. The quarterback threw 14 touchdowns and rushed for two himself. As Kubiak's family continued to grow, the NFL quarterback retired and began coaching. His coaching career started at his alma mater where he served as A&M's running backs coach during the 1992 and '93 seasons. He then continued to the San Francisco 49ers as a quarterbacks coach where he connected with Steve Young and helped coach him to an MVP season. The 49ers continued to the Super Bowl and beat the San Diego Chargers, 49-26. After his successful season with the 49ers, the Broncos hired Kubiak as offensive coordinator and quarterbacks coach, where he would be working with former teammate, John Elway. The reunion between the once back-up quarterback and current quarterback became quite the duo, and the Broncos went on to win a pair of Super Bowl titles in 1997 and '98. Kubiak spent 11 seasons with the Broncos before becoming the head coach of the Texans after the 2005 season. He led the newly founded team to back-to-back AFC South titles in 2011 and '12. Kubiak spent time with the Baltimore Ravens as an offensive coordinator in 2014, then returned to the Broncos where he contributed to a 12-4 season, AFC West title and his fourth Super Bowl victory. In 2017, Kubiak stepped away from coaching and currently serves as a senior personnel adviser for the Broncos.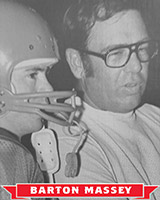 Barton Massey
Greater Houston High School Coaches Association honoree Barton Massey had a successful career in multiple sports as a player as well as a coach. Massey received All-District, All-Regional, All-State and Parade All-American accolades during his football career at Austin Bowie High School, where he played in two bowl games, the Greenbelt Bowl and the Oil Bowl. The star football player was also an All-District and First-Team All-State basketball player all while participating in baseball and track. Massey continued his football career at Texas Tech and was a four-year starter for the Red Raiders. During his collegiate career, the All-American Center played in the 1952 Sun Bowl, where he contributed to the team's victory against College of Pacific. Then in 1954, Massey helped lead the team to success in the Gator Bowl against Auburn University. During the seasons the Red Raiders did not qualify for a bowl game, Massey played on the basketball team. He even played in the 1956 NCAA basketball tournament in Kansas City. In 1956, Massey's senior year, the center was named to the Honorable Mention All-American list and was later drafted by the Green Bay Packers. After his athletic career ended, Massey remained involved within the sports world. The Texas Tech alumni helped coach the Red Raider's football team for one year, then returned home and was the assistant football and basketball coach as well as the head baseball coach at Bowie High School from 1958 to 1959. Massey was promoted to head football coach from 1960-1964. Continuing his coaching career, he spent time at Bryan High School as a football and baseball coach, as well as Aldine High School where he coached football. After many years of coaching, Massey became the Director of the Texas High School Coaches Association from 1973 to 1975. The former Red Raider was named a Texas Tech 50-Yard Line Hall of Honor member and was elected to the Greater Houston Football Coaches Association Ronnie Bell Hall of Honor in 2008. Massey spent time as the Executive Principal at Conroe High School and retired in 1996. He later retired as a Consultant to Conroe Independent School District in 2002. Massey currently resides in Panorama Village, Texas.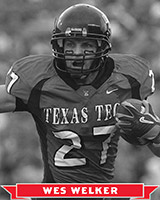 Wes Welker
Texas Tech Alum Wes Welker may not have started in Texas, but he has returned as the Houston Texans current Offensive Assistant Coach. The Oklahoma City native had an impressive career as a quintuple threat at Heritage Hall high school. As a rusher, receiver, kick returner and kicker, the athlete had notable numbers in every category. He accumulated 3,235 rushing yards for 53 touchdowns, 174 receptions for 2,551 yards and 27 touchdowns, returned seven kicks for touchdowns, made 35 field goals, including a 57-yarder, and 165 extra points; totaling 818 points in four years. On defense, Welker totaled 581 tackles, 22 interceptions, three of which were returned for touchdowns. Welker's success continued during his time at Texas Tech. The wide receiver totaled 259 receptions for 3,069 yards and 21 touchdowns. Welker also ran the ball 79 carries for 559 yards and two touchdowns. He started nearly every game as a Red Raider, left as a leading receiver in school history, was named first-team All-Big 12 in 2002 and '03 and was one of the top punt returners in NCAA history. In 2003, he was recognized for his talent and was honored with the Mosi Tatupu Award as the College Football Special Teams Player of the Year. Welker was signed by the San Diego Chargers as an undrafted free agent in 2004. In Welker's debut as a Charger, he had four kick returns for 102 yards, all more than 20 yards. Between kick and punt returns, Welker had a combined 447 returns for 6,722 yards and one touchdown. His stats were incredible on special teams, and he also broke records as a receiver. In 2007, Welker's first season with the Patriots, the receiver caught 112 receptions for 1,175 yards and eight touchdowns. After six seasons in New England, Welker holds the second all-time receiving record for the Patriots, having been targeted 926 times with 672 receptions. He totaled 7,459 yards and 37 touchdowns and holds the fourth highest single-season reception totals in Patriots' history. His NFL career continued when he signed with the Broncos in 2013. During his debut, Welker posted nine receptions for 67 yards and two touchdowns. In 2013, Welker caught a touchdown pass in eight of the first 10 games of the season. In week 7 in 2014 with the Broncos, Welker passed Rod Smith for the most receptions by an undrafted player in NFL history. He also caught Peyton Manning's 508th career touchdown pass, which tied Brett Farve for the most all-time. During his 12 seasons in the NFL, Welker had three Super Bowl appearances, five consecutive NFL Pro Bowl honors and four NFL All-Pro honors. He finished with 903 receptions for 9,924 yards and 50 touchdowns.
---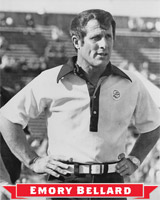 EMORY BELLARD
Deemed to have had one of the most advanced offensive minds in football, notable head coach Emory Bellard was selected by the Greater Houston Football Coaches Association to receive this Gridiron Legend honor. The Luling, Texas native is credited for inventing the Wishbone Offense, regarded as the most dynamic and groundbreaking offensive schemes in college football during the 1970s and 1980s. Bellard was a running back at the University of Texas his freshman year, but broke his leg the next season. Due to his injury and the return of players from World War II, he transferred to Southwest Texas State, which is now Texas State University. His tenure of 21 seasons as a head coach started at Ingleside High School in Ingleside, Texas, where he coached from 1952 to 1954. Bellard then moved on to Breckenridge High School, a powerhouse in the state in the second-highest UIL classification. During his time there from 1955 to 1959, he led the team to two state championships (1958, 1959). Bellard won another state championship in 1966 during his tenure at San Angelo Central High School, which spanned from 1960 to 1966. After an impressive high school coaching career, he made the jump to the collegiate level where he also succeeded. Bellard was hired as linebackers coach for the University of Texas in 1967. From 1968 to 1971, Bellard was their offensive coordinator, and during this time established and applied the wishbone formation. This system, also known as the triple-option, helped the Longhorns win 30 games in a row and a national championship in 1969. Other teams, such as powerhouses Alabama and Oklahoma, began adopting the wishbone offense. From 1969 to 1979, seven national championships were won or shared by teams that implemented this scheme. Bellard left the Longhorns to become Texas A&M's head coach from 1972 to 1978. He led the Aggies to a 48-27 record during his tenure, which included three top-15 finishes and three consecutive bowl games. He resigned midway through the 1978 season and then became the head coach at Mississippi State in 1979, where he stayed until 1985. Bellard led the Bulldogs to a record of 79-85 and they twice finished in the top 20 in the polls. After his time at Mississippi State, he returned to the high school level, where he coached Spring Westfield High School from 1988 to 1993, making his overall high school coaching record 177-59-9. Bellard passed away on February 10, 2011 from amyotrophic lateral sclerosis (ALS), also known as Lou Gehrig's disease. He is survived by his wife, Susan, and his son, Bob, who coaches high school football in Texas. His family will receive the honor in his name.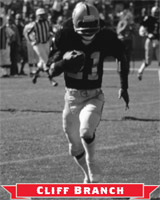 CLIFF BRANCH
Four-time All-Pro and three-time Super Bowl Champion Cliff Branch spent 14 seasons in the NFL, all with the Oakland/Los Angeles Raiders. The former Worthing High School standout graduated from the University of Colorado at Boulder in 1972, where he set the NCAA FBS record for kickoffs returned for touchdowns with eight. During his time at Colorado, Branch also set school and NCAA Championship records in track, specifically the NCAA 100-meter record with a time of 10.0 seconds. The Raiders selected the Houston native in the fourth round of the 1972 NFL Draft with the 98th overall pick. During his tenure, Branch caught three passes for 20 yards in Super Bowl XI, five passes for 62 yards and two touchdowns in Super Bowl XV and six passes for 94 yards and a touchdown in Super Bowl XVIII. In four consecutive seasons (1974-1977), the former wide receiver was voted a First-Team All-Pro by the Associated Press and named to four consecutive Pro Bowls. In 1974, Branch led the league in receiving yards (1,092) and receiving touchdowns (13). During the 1983 season, he set the Raiders franchise record for the longest touchdown reception with a 99-yard score. Branch's career in the NFL ended after the 1985 season, but he subsequently played for the Los Angeles Cobras of the AFL in 1988. Branch was the only wide receiver to be on the roster of all three Super Bowl-winning Raiders teams and was named to the PFRA Hall of Very Good Class of 2011. The two-time Pro Football Hall of Fame semifinalist's NFL career boasts 501 receptions, 8,685 receiving yards and 67 touchdowns.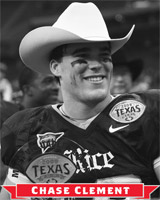 CHASE CLEMENT
UFL Championship MVP Chase Clement spent three seasons in the UFL and had two separate stints in the CFL after a record-setting career at Rice University. The former quarterback holds the NCAA FBS record, along with former Rice wide receiver Jarrett Dillard, for career touchdowns between a quarterback-receiver tandem (51). The San Antonio native broke Conference USA Conference passing records, and in 2007, he earned second-team All-Conference USA honors. In his first-team all-conference senior season, Clement lead the Owls to a win in the 2008 Texas Bowl, where he was named MVP, and earned the C-USA MVP honors. The Rice University all-time passing leader is ranked second behind Case Keenum on the C-USA lists for career touchdowns and touchdown passes. Clement completed his college career with 125 career touchdowns, and his 99 passing touchdowns tied former Heisman Trophy winner Matt Leinart on the NCAA career touchdown passes list. While a prospect for the 2009 NFL Draft, he went undrafted and was signed by the Hamilton Tiger-Cats of the CFL in June 2009 and retired after one preseason practice. The Las Vegas Locomotives of the UFL later signed Clement in 2010, and he stayed with them until 2012. During his time there, he led the team to the UFL title in 2010 and was named the championship game MVP. Clement signed with the Winnipeg Blue Bombers of the CFL in April 2013 and was later released the following June. During his post-collegiate career, he has worked out with several NFL teams including the Houston Texans, Jacksonville Jaguars, San Francisco 49ers and Dallas Cowboys.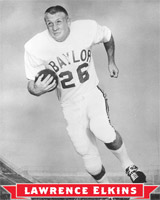 LAWRENCE ELKINS
Former first-round draft pick and wide receiver Lawrence "Larry" Elkins' professional career spanned five years after a highly accomplished tenure at Baylor University. The three-sport All-State player at Brownwood High School turned down an offer from the University of Texas to attend Baylor, where he set several receiving records that still stand. Elkins was a two-time consensus All-American at Baylor – the first two-time consensus pick in the university's history. One of the best receivers in Baylor's history, he caught 144 passes for 2,094 yards and scored a school-record 19 touchdowns. Some of Elkins' accolades include MVP honors at the 1965 Hula Bowl and being named to the Look Magazine All-American team. The records he set include ranking third in all-time career receptions and career receiving yards, Baylor's single-game record for receptions (12) and the NCAA single-season record in 1963 with 70 catches. Elkins was a first-round pick in the 1965 NFL Draft by the Green Bay Packers as well as a first-round pick in the AFL Draft by the Houston Oilers the same year. After signing with the Oilers, a knee injury in an exhibition game in his rookie season kept Elkins off the active roster until 1966. Following his time with the Oilers, he joined the Pittsburgh Steelers, where he broke his collarbone in a preseason game in 1969 after earning a starting job with the team. Elkins' football career has been recognized and honored by many, which is evident by his induction into the Baylor Athletic Hall of Fame (1976), the College Football Hall of Fame (1994) and the Texas Sports Hall of Fame (2009). His life post-football managed to be as interesting as his time in football. From 1971 to 1978, Elkins worked for Brown and Root Inc., now known as KBR, Inc., in the United States and Europe. From 1979 to 1982, he worked with offshore drilling companies in the Gulf of Mexico and Africa. In the early 1980s, Elkins chauffeured Academy Award-winning actor Robert Duvall around Texas as he studied Texas accents for the film Tender Mercies and television miniseries Lonesome Dove. He later spent more than 12 years as a consultant for Ministry of Water in Saudi Arabia, where he was involved in the management of 26 desalination plants and several pumping stations and pipelines along the Red Sea and Persian Gulf.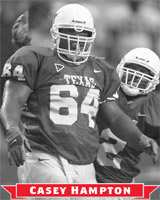 CASEY HAMPTON
Two-time Super Bowl Champion Casey Hampton spent 12 seasons in the NFL, all with the Pittsburgh Steelers. The former nose tackle got his start at Galveston Ball High School, where he was a two-sport All-American in football and track. Hampton was twice named the District Defensive Player of the Year and was a Texas Class 5A All-State First-Team selection. His high school jersey number (No. 63) was retired at a parade and dinner in April 2009, and he is the only football player in Galveston Ball's history to receive this honor. Hampton went on to have an impressive collegiate career at the University of Texas, where he started in 37 consecutive games for the Longhorns from 1997 to 2000. During his time at UT, he became the first defensive lineman to lead the team in tackles in two consecutive seasons (1999-2000). Hampton recorded 329 career tackles, which placed him 11th on the school's all-time list. The Big 12 Defensive Player of the Year by the Conference Coaches (2000) was also a two-time consensus All-American and a two-time first-team All-Big 12 Conference selection. Hampton was a first-round pick, 19th overall, in the 2001 NFL Draft by the Pittsburgh Steelers. He played in all 48 games in his first three seasons and took a trip to the Pro Bowl in 2003. A knee injury six games into the 2004 season kept him out for the remainder of the season, but he came back to win Super Bowl XL and XLIII with the Steelers. During Super Bowl XL, Hampton sacked Seattle Seahawks' quarterback Matt Hasselbeck, sealing the game for Pittsburgh. During his professional career, the five-time All Pro played in 173 games with 374 combined tackles, 9.0 sacks, three passes defensed, four forced fumbles and two recovered fumbles. In commemoration of the Steelers' founding in 1933, the franchise's top 33 players were selected by fan voting to the Pittsburgh Steelers All-Time Team. Hampton was named to the group as a part of the franchise's 75th season celebration in 2007.
---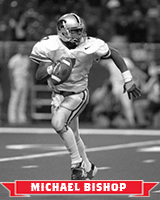 Michael Bishop
A native of Willis, TX, quarterback Michael Bishop led Kansas State to their first No. 1 ranking in school history as a senior in 1998. Bishop initially attended Blinn Junior College in Brenham, TX, where he led the Buccaneers to two undefeated seasons and two NJCAA National Championships his freshman and sophomore year before joining Head Coach Bill Snyder – the only Division I school to offer him an opportunity to play quarterback – at Kansas State. Bishop led the Wildcats to consecutive 11-win seasons in 1997 and 1998. As a junior, Bishop threw for 1,557 yards and 13 touchdowns while also rushing for 556 yards and nine touchdowns, leading the team to an 11-1 record and a win in the Fiesta Bowl. He concluded his junior season as a second-team All-Big 12 Conference voted by the league's coaches and Big 12 Newcomer of the Year by the Associated Press. As a senior, Bishop helped the Wildcats to an 11-0 record, throwing for 2,844 yards, 23 touchdowns and just five interceptions. He rushed for 748 yards on 177 carries, scoring 14 touchdowns. The Wildcats won the Big 12 North title and lost in double overtime to No. 10 Texas A&M team. After starting in all 25 games during his two season at Kansas State, he received 792 votes in the 1998 Heisman Trophy voting, including 41 first place votes, but finished second to Ricky Williams. He finished his Wildcat career fourth on the all-time passing list with 4,401 yards and broke Chad May's career record with 36 touchdown passes despite playing only two seasons. After his senior season, Bishop was voted a consensus All-American and All-Big 12 Conference selection and was named the Big 12 Offensive Player of the Year. Bishop was drafted by the New England Patriots in the seventh round of the 1999 NFL Draft and later played for the Frankfurt Galaxy of NFL Europe in 2001. Bishop also played stints in the Arena Football League and Canadian Football League. He has since been inducted into the Kansas Sports Hall of Fame, K-State Athletics Hall of Fame and most recently was nominated for the College Football Hall of Fame. Bishop is now a high school football coach in Texas.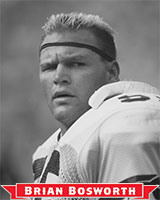 Brian Bosworth
Brian Bosworth, nicknamed "The Boz," was a two-time consensus All-American and led Oklahoma to the National Championship in 1985. In addition to winning a National Championship, Bosworth is the only player in history to have won the Butkus Award, given to the nation's most outstanding linebacker, two consecutive times and finished his college career with 413 tackles in three seasons. Bosworth starred at Irving MacArthur High School in the Dallas area prior to his time at OU and was named to the UIL's All-Century Defensive Team in 2009. Upon retiring from professional football, Bosworth entered the film industry and has appeared in numerous movies including "Stone Cold" and "The Longest Yard." Bosworth was inducted into the College Football Hall of Fame in 2015.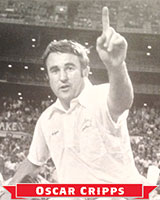 Oscar Cripps
Legendary Texas football coach, Oscar Cripps, is one of the most storied high school football coaches in Texas history. A member of the Greater Houston Football Coaches Association Hall of Honor, Cripps spent the majority of his career as the head coach at Stratford High School. In his 26 years as head coach of the Spartans, Cripps led the team to 163 wins, two state final appearances, seven district titles, eight playoff seasons and a victorious State Championship in 1978. The Texas High School Football Coaches Hall of Honor member coached many greats, including former New England Patriots running back and Pro Bowl selection, Craig James.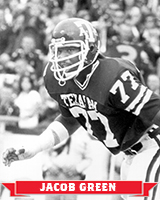 Jacob Green
Former Texas A&M Aggie and standout NFL defensive end, Jacob Green, is one of the most storied players in Texas football history. Born in Pasadena, TX, Green joined the Aggies in 1977 under Head Coach Emory Bellard followed by Head Coach Tom Wilson. The two-time All-American left Texas A&M in 1979 after finishing his career with 37 quarterback sacks and 12 forced fumbles, a record that still holds today. Green's success on the football field continued after the Seattle Seahawks drafted him in the first round of the 1980 NFL Draft. The 10th overall pick went on to play defensive end for the Seahawks for 12 seasons, earning All-Pro Honors in both 1983 and 1984. During his time in Seattle, Green was a two-time Pro Bowl selection who accounted for 12 or more sacks in a single season six times in his NFL career. After accumulating 116 sacks in 12 seasons for the Seahawks, the team inducted Green into the Ring of Honor, a group of 11 members recognized for their contributions to the team. Along with his Ring of Honor induction in 1995, Green was added to the Texas A&M Letterman's Hall of Fame in 1987 and the Southwest Conference Hall of Fame in 2014. Most recently, Green earned his place in the Texas Sports Hall of Fame Class of 2016. Green now serves as vice president of major gifts and endowments for the 12th Man Foundation, which funds scholarships, programs and facilities in support of Texas A&M athletics.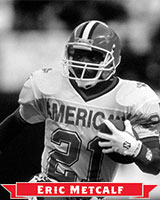 Eric Metcalf
Former Texas Longhorn and NFL star, Eric Metcalf, is one of the most distinguished two-sport athletes in Longhorn history. As a member of both the track and field and football teams, Metcalf broke numerous records that still stand today. A four-time All-American in track and field, Metcalf won the National Championship in the long jump in 1986 and 1988 and placed eighth in the 1988 U.S. Olympic Trials. In addition to his success on the track, Metcalf was a three-time All-Southwest Conference selection, second-team All-American and winner of the Southwest Conference Player of the Year in 1987. Along with holding every running back receiving record, Metcalf remains the only player in Texas history to lead the team in all-purpose yards for four consecutive years. Metcalf's success on the football field continued after the Cleveland Browns selected him in the first round of the 1989 NFL Draft. The three-time Pro Bowl selection ranks 12th on the NFL's All Time Kick Returns List, 13th on the All Time All-Purpose Yards List and his 12 returned kick touchdowns are tied for third-most in NFL history. During his 13 years in the NFL, Metcalf found time to create the Seatown Express Track Club to inspire athletes to pursue track and earn college scholarships through the sport. The son of former NFL running back, Terry Metcalf, is a member of the University of Texas' Hall of Honor.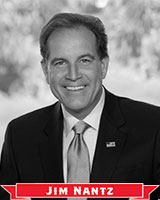 Jim Nantz
Three-time Emmy Award winner and five-time National Sportscaster of the Year, Jim Nantz, is one of the most distinguished sports commentators of all time. The University of Houston graduate has covered virtually every sport for the CBS Television Network since joining in 1985. Nantz has been the lead play-by-play voice for THE NFL ON CBS and the Network's NFL Thursday Night Football games; the lead anchor of CBS's golf coverage, including the PGA Tour, Masters and PGA Championship; and lead play-by-play announcer for college basketball, including the NCAA Men's Final Four.
Overall, Jim has broadcasted six Super Bowls, even calling the most recent Super Bowl 50 in February. Jim is the youngest recipient of the Pro Football Hall of Fame Pete Rozelle Radio-Television Award as well as the Naismith Memorial Basketball Hall of Fame's Curt Gowdy Media Award. In 2011, Nantz returned to his adopted hometown of Houston to team with Houston Methodist Hospital at The Texas Medical Center to create the Nantz National Alzheimer Center. The NNAC is dedicated to funding innovative diagnostic discoveries for early and accurate detection of Alzheimer's disease and other dementing illnesses in hopes of one day finding a cure.
The proud Houston Cougar graduated with a degree in radio/television from the University of Houston in 1981, where he was recruited as a member of the golf team. In May 2001, he received an honorary doctorate of humane letters from his alma mater, becoming the first former student-athlete to ever deliver the commencement address and be bestowed an honorary degree from the university. In 2002, Jim was named to the UH Athletics Hall of Honor.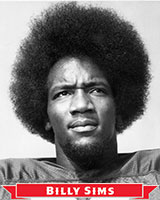 Billy Sims
Former college standout and NFL running back Billy Sims played five seasons in the National Football League. The first overall pick in the 1980 NFL Draft was selected by the Detroit Lions after a memorable career at the University of Oklahoma. During his time as a Sooner, Sims led the Big Eight in rushing and the nation in scoring for two consecutive years. The two-time consensus All-American won the prestigious Heisman Trophy as a junior in 1978 as well as the Walter Camp Player of the Year Award. After rushing for 1,303 yards and 13 touchdowns during his first season with the Lions, Sims became the NFL's AP Offensive Rookie of the Year in 1980. The three-time Pro Bowl selection was the Lions' offensive MVP in 1980, 1982 and 1983 and led the Lions to two successive playoff appearances. In addition, Sims played an integral role in helping the Lions claim the NFC Central division title in 1983. The storied running back ranks second on the Lions' all-time rushing list with 5,106 yards and 42 touchdowns. Sims was inducted into the National Football Foundation Hall of Fame in 1995. Today, the Texas-raised athlete owns and maintains his own barbeque franchise, Billy Sims Barbeque, which he launched in 2004.
---

Curley Culp
NFL Hall of Famer Curley Culp played 13 years in the American Football League and National Football League with the Kansas City Chiefs, Houston Oilers, and Detroit Lions. During his outstanding career, Culp played both offensive and defensive line and was elected to a Pro Bowl or AFL All-Star Game six times. The NFL legend and member of the 2013 Hall of Fame class played his college football at Arizona State University, where he also won the NCAA heavyweight wrestling championship. Culp is a member of the ASU Football Hall of Fame and was the school's Homecoming King in 1967. During his NFL career, Culp complied 68 career sacks and was a member of the Chiefs team that won Super Bowl IV. After spending 1968-74 with the Chiefs, Culp was traded to the Oilers and spent seven years in Houston. He was named NFL Defensive Player of the Year in 1975 and was the Oilers team MVP in 1977. Culp was also named to the Houston Oilers 30th Anniversary "Dream Team" as selected by vote of the Houston Oilers fans and got enshrined into the Chiefs Hall of Fame in 2008. Additionally, Culp received the Bill Ennis Memorial Award [HSSA] as the Professional Athlete of the Year in 1975 and was recognized as the No. 1 Athlete of the Century for the State of Arizona by USA Today.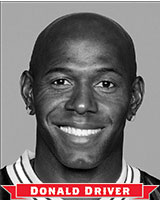 Donald Driver
A 14-year veteran of the Green Bay Packers from 1999 to 2012, former NFL wide receiver Donald Driver is one of the most decorated players in Packer history. He currently holds the franchise's all-time records for most career receptions and receiving yards. The Houston native is a former Super Bowl Champion and four time NFL Pro Bowler. In high school, Driver lettered four times each in track, football, basketball and baseball at Milby High in Houston. Driver was also a Texas All-State honorable mention in Football, where he played wide receiver, defensive back, and returned kicks. After his incredible high school career, Driver enrolled at Alcorn State University in Mississippi, where he lettered in both football and track & field. He finished his college football career with 88 receptions for 1,993 yards and was a five-time "Athlete of the Year" in his conference for track and football. Although Driver was originally just a seventh round pick of the Packers in 1999, he went on to win multiple awards with them, including being named the "Walter Payton Man of the Year" in 2002 and receiving the "Ed Block Courage Award" in 2005. Since retiring, Driver has become a New York Times bestselling author and won season 14 of ABC's Dancing with the Stars in 2012.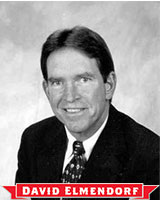 David Elmendorf
Former college and NFL star David Elmendorf is one of the most decorated athletes in Texas A&M history. During his storied college career, Elmendorf was named a consensus All-American in baseball and football for the Aggies and was a seven-time letterman. Elmendorf, who was also an Academic All-American in both sports, is a member of the College Football Hall of Fame, Texas A&M Hall of Fame, and Texas High School Football Hall of Fame. The two sport star was first drafted to play baseball by the New York Yankees in 1971, but chose to play football and was drafted by the Los Angeles Rams later that same year. Elmendorf played nine seasons in the NFL at safety, where he was a member of the Rams' Super Bowl XIV team. He was named to the NFL's All-Rookie Team as a rookie in 1971, earned First-Team All-NFC honors in 1974, and was Second-Team All-Pro in 1975. In his nine NFL seasons, Elmendorf played in 130 games, starting all 130, and intercepted 27 passes and recovering 10 fumbles. Elmendorf, a native of San Antonio, attended Westbury High School in Houston, where he was named All-City and All-State. He did color commentary for the Texas A&M football radio broadcast in 2007 and was named General Manager of Quail Valley Golf Course in 2008.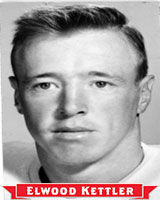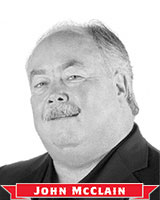 John McClain
One of the most accomplished and respected sports writers in the country, John McClain has been covering the NFL for the Houston Chronicle for over 35 years. He has won numerous awards around the country for his work covering the league and is the former President of the Pro Football Writers of America. McClain, who grew up in Waco and graduated from Baylor, left the Waco Tribune-Herald to join the Houston Chronicle in October 1976 to cover the original Houston Aeros of the World Hockey Association. He eventually moved to football coverage and his first Oilers' training camp was in 1977. Now, McClain is a member of the Texas Sports Hall of Fame Selection Committee and the Pro Football Hall of Fame Selection Committee. In 2006, he received the Dick McCann Memorial Award as the Pro Football Hall of Fame recognized him for his long and distinguished reporting on the NFL. McClain is also a member of the Screen Actors Guild with appearances in movies such as The Rookie, The Longest Yard, Invincible, The Game Plan, Secretariat, Cook County and Spring Breakers.
---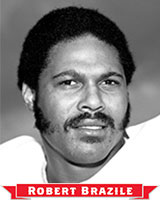 Robert Brazile
A 10-year veteran of the Houston Oilers from 1975 to 1984, Robert Brazile became a Houston legend as one of the leagues' most feared linebackers and guided the Oilers to consecutive AFC Championship games in 1978 and 1979. Following a successful career at Jackson State, Oilers' head coach and general manager Bum Phillips selected Brazile with the sixth overall pick and quickly slotted the rookie into the outside linebacker position in the 3-4 defense.
Nicknamed 'Dr. Doom' by his teammates, Brazile was named the 1975 Defensive Rookie of the Year, earned Pro Bowl selections in each of his first seven years in the league and was an eight-time All-Pro.
Brazile is a member of the NFL's All-Decade Team for the 1970s after racking up 1,281 tackles in his career, the second highest in Oilers/Tennessee Titans team history. Brazile displayed a knack for getting after the quarterback, but is only credited with 11 sacks because the stat did not become official until the 1982 season. Brazile was recently inducted into the Black College Football Hall of Fame and is a member of the SWAC Hall of Fame and Jackson State Hall of Fame.
Following his career on the gridiron, Brazile coached a minor league football team and is currently a teacher for special needs children in Mobile, Ala.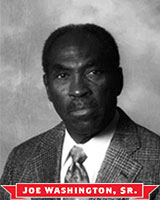 Joe Washington Sr.
A former player and legendary high school coach in Southeast Texas, Joe Washington Sr., spent a large portion of his coaching career at all-black high schools.
Born on June 10, 1929 in Rosenberg, Washington grew up in the town 20-plus miles from Houston. Washington did not play prep football because the black high school in Rosenberg at the time did not field a football team, but persevered first as a player and then later as a coach despite the Jim Crow Laws that made segregation law.
He enlisted in the army in 1946, where he played running back and defensive back for a racially-mixed armed forces team while stationed in Hawaii, and went on to enjoy a successful three-year career at all-black Prairie View A&M. At Prairie View, Washington met his wife Phyllis, and following graduation in 1951 would begin a coaching career that spanned 45 years.
Washington spent the first 15 years of his career at Hilliard High School in Bay City and the next 30 years at Abraham Lincoln High School in Port Arthur. Washington coached a half dozen players to the NFL, including his son Joe Jr., who went on to become a two-time All-American at Oklahoma, a 1976 first round pick of the San Diego Chargers and a Super Bowl XVII Champion with the Washington Redskins.
---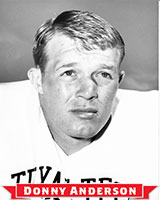 Donny Anderson
Texas born and raised, Donny Anderson graduated from Stinnett High School in 1961. After high school Anderson continued play football at Texas Tech University where he earned the nickname, "Golden Palomino." While at Texas Tech, Anderson was a 2x All American and 3x All Southwestern Conference pick. In 1965, Anderson was named The Sporting News National Co-Player of the Year and the winner of the Southwestern Conference Sportsmanship Award.
Anderson was chosen 7th pick overall by the Green Bay Packers and signed the most lucrative contract ever offered to an NFL rookie to date. During his six seasons with the Packers, Anderson won two Super Bowl Championships and was a 2x Green Bay Packer MVP. Donny finished his career playing three seasons with the Arizona Cardinals before retiring.
Donny Anderson is a member of the Texas High School Football Hall of Fame, the Texas Tech Hall of Fame, the College Football Hall of Fame, the Panhandle Sports Hall of Fame, and the Texas Sports Hall of Fame.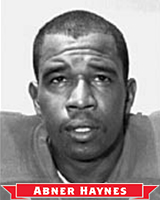 Abner Haynes
Abner Haynes was born in Denton, Texas and graduated from Lincoln High School in Dallas, Texas. After graduating, Haynes continued playing football at North Texas State University where he and his teammate, Leon King, introduced integrated college football to Texas in 1956.
Haynes made his debut in the American Football League in 1960 with the Dallas Texans and was named the AFL Rookie of the Year, the AP AFL MVP, and the UPI AFL MVP all during his first season. Abner Haynes played eight seasons in the American Football League, with the Dallas Texans, Kansas City Chiefs, Denver Broncos, Miami Dolphins, and New York Jets before retiring.
Between the years of 1960 and 1964, Haynes was a 4x AFL All-Star selection, a 3x TSN All-AFL selection, and 4x All-Pro selection. He is now a part of the Texas Sports Hall of Fame, Kansas City Chiefs Hall of Fame, and North Texas Hall of Fame. Abner Haynes was named to the AFL's All-Time Second Team.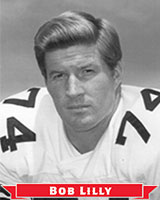 Bob Lilly
Bob Lilly played his entire high school, college, and professional careers in the state of Texas. Born in Throckmorton, Texas, he attended Throckmorton High School. Upon graduation, Lilly continued playing football at Texas Christian University where he was honored as a two-time All-Southwestern Conference pick.
Chosen in the first round of the NFL Draft by the Dallas Cowboys in 1961, Bob Lilly played 14 seasons with the Cowboys and during that time was an 11x Pro Bowl selection, 7x First-team All-Pro selection, 2x Second-team All-Pro selection, 8x All-Conference selection, and a 2x Second-team All-Conference selection.
A 1971 Super Bowl champion and Dallas Cowboys Ring of Honor inductee, Bob Lilly is also a member of the 75th Anniversary All-Time Team and the NFL 1960s & 1970s All-Decade Team. Lilly is a member of the Pro Football Hall of Fame, the College Football Hall of Fame, and the Texas Sports Hall of Fame.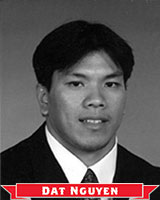 Dat Nguyen
Legendary player and coach, Dat Nguyen, was born at a refugee center in Fort Chaffee, Arkansas after his family left South Vietnam during the fall of Saigon at the end of the Vietnam War. Nguyen lived most of his childhood in Rockport, Texas where we attended Rockport-Fulton High School playing linebacker and handling punting duties.
Nguyen decided to continue his career in College Station playing for the Texas A&M Aggies. As a freshman at Texas A&M, he was named the Southwestern Conference Defensive Newcomer of the Year and earned first-team All-Big 12 honors three consecutive times between 1996 and 1998. In 1997, Nguyen was named the Aggies' MVP and was awarded the Lombardi Award, the Jack Lambert Award, the Chuck Bednarik Award, was a unanimous All-American, and was named the Big 12 Defensive Player of the Year all during his 1998 senior season.
Nguyen became the first Vietnamese-American to play in the NFL when the Dallas Cowboys drafted him in 1999. During his seven seasons playing in the NFL, Nguyen was a part of the All-Rookie Special Teams Team in 1999 and All-Pro Team in 2003. Nguyen is a member of the 2005 Big 12 10th Anniversary Team and the 2010 AP All-Time Big 12 Team.
Making his coaching debut with the Cowboys as an Assistant Linebackers Coach and Defensive Quality Control Coach in 2007, Nguyen returned to his alma mater, Texas A&M University after coaching for three seasons with the Dallas Cowboys. Dat Nguyen coached under Mike Sherman for two seasons as the Aggies' Inside Linebackers Coach. Currently, Nguyen lives in San Antonio and co-hosts for ESPN Radio.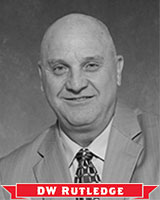 DW Rutledge
A Houston native, DW Rutledge, played high school football at Sam Houston High School in Houston, Texas and continued his career at as linebacker at Texas Lutheran University.
While playing at TLU, Rutledge captained the 1974 NAIA National Championship team and was a Kodak All-American. Rutledge is one of the most successful coaches associated with Texas high school football history, winning four state championships at Judson High School in Converse, TX. The school eventually renamed its' football stadium in Rutledge's honor of his success. Rutledge is a member of the Texas High School Football Hall of Fame, the Texas High School Football Coaches Association Hall of Fame, and the San Antonio Sports Hall of Fame.
Rutledge co-authored the book Coaching to Change Lives, and is currently the Executive Director of the Texas High School Coaches Association.
---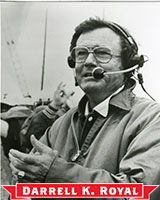 Darrell Royal
The most successful college football coach the state of Texas has ever seen, Royal guided the University of Texas to three national championships and 12 Southwest Conference titles. His Longhorns went to 16 bowl games and recorded 10 top-10 finishes, and his 167 wins remain the most in Texas' storied history.
Under Royal, the Longhorns revolutionized college football by debuting the "Wishbone" offensive attack, which led to 30 consecutive victories and two national titles from 1968-70. Royal retired from coaching following the 1976 but remained in Austin as the athletic director until he retired in 1980. Prior to becoming a coach, Royal was an All-America quarterback at Oklahoma under the legendary Bud Wilkinson, making him one of the very few people to have competed in the heated Texas-Oklahoma rivalry on both sides. He was inducted into the College Football Hall of Fame in 1983.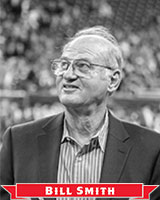 Bill Smith
With over 230 wins at the helm of Aldine High School, Bill Smith joins the Gridiron Legends as a renowned Houston-area high school coach. Smith led the Mustangs for over 29 years, winning the state and national championships in 1990 and picking up numerous accolades along the way. In 2004, Aldine renamed its stadium to honor Coach Smith for his service to the school and community.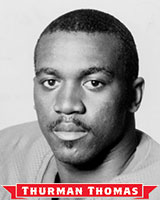 Thurman Thomas
Thomas is a Houston Native who grew up playing football in Missouri City. Thomas attended Oklahoma State University where he was selected as first team selection on the College Football All-America Team in 1985 and 1987 and also a Heisman candidate his senior year.
Drafted in the first round of the 1988 NFL draft by the Buffalo Bills, Thomas was a key component in the offense that included Jim Kelly and Andre Reed, which lead the Bills to four straight Super Bowl appearances. Thomas was selected to 5 straight Pro-Bowls from 1989-1993. Thurman Thomas played in the NFL for 13 season and still hold the all-time Buffalo Bills rushing record with 11,938 yards and the team record for yards from scrimmage with 16,279 over 12 years. Thomas is also the only player in the history of the NFL to lead the league in total yards from scrimmage for four consecutive season.
---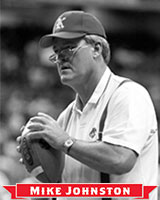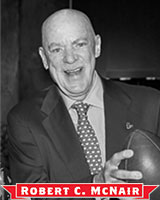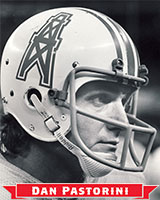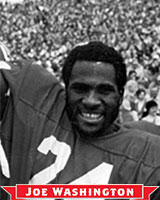 ---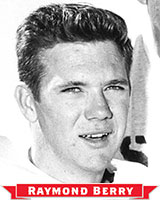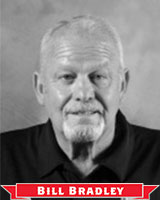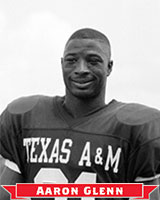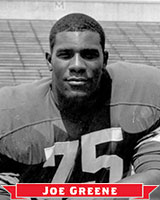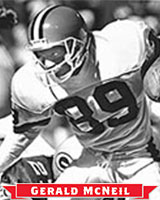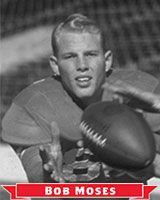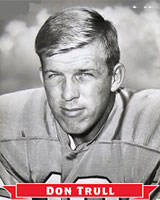 ---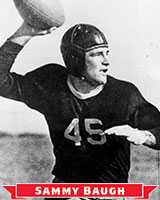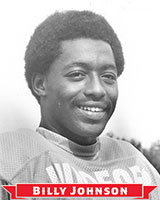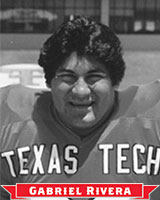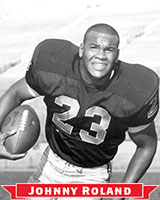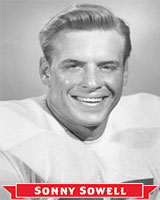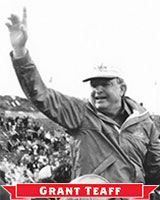 ---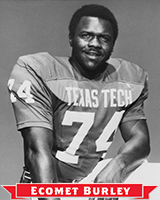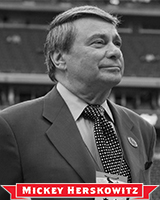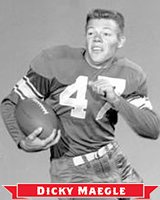 ---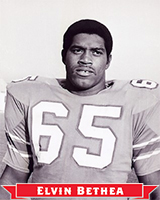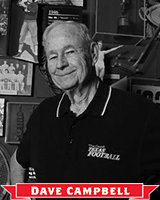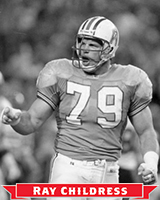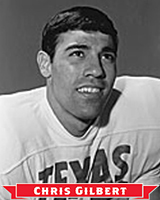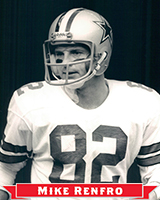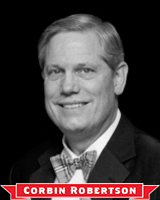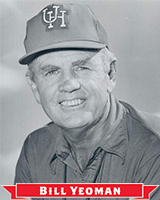 ---