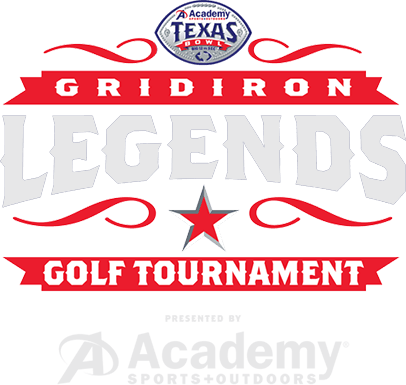 GRIDIRON LEGENDS GOLF TOURNAMENT
OCTOBER 2020 | CHAMPIONS GOLF CLUB
The Gridiron Legends Golf Tournament presented by Academy Sports + Outdoors provides a rare opportunity to golf with some of the most notable names in Texas sports history at the storied Champions Golf Club, founded by golf legends Jack Burke, Jr. and the late Jimmy Demaret. Since 1957, Champions Golf Club has hosted numerous prestigious events such as the Ryder Cup, U.S. Open and Champions International, crowning winners from Arnold Palmer to Tiger Woods. In 2020, the prestigious Cypress Course will host the U.S. Women's Open.
Proceeds from the tournament will directly benefit DePelchin Children's Center, the official charitable beneficiary of the Academy Sports + Outdoors Texas Bowl. Since the inception of the bowl game in 2006, over $1.6 million has been raised to help DePelchin provide support through foster and adoption services to children and families throughout Texas.
We would like to say a big thank you to our celebrity hosts Andre Ware, Heisman Trophy Winner and ESPN Analyst, and John McClain, NFL Writer for the Houston Chronicle, for their support.
For more information on the 2020 Gridiron Legends Golf Tournament, contact Rebekah Snodgrass at Rebekah.Snodgrass@houstontexans.com
The 2019 Gridiron Legends Golf Tournament was a record success!

In 2019, a record amount was raised for DePelchin Children's Center. Guests enjoyed a round of golf at the prestigious Champions Golf Club as well as the exclusive opportunity to interact with Texas Sports Legends and Gridiron Legends Golf Tournament hosts Andre Ware and John McClain as well as other notable legends like Roger Clemens, Robert Brazile, Kenny Houston, Dan Pastorini and more!